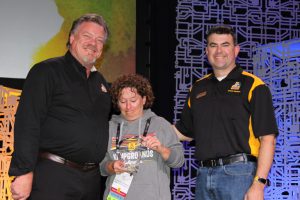 Each year the We Care Award is presented to a person or company that has gone above and beyond for the cause.  The Award is based on:
 -their level of contribution generated by directly or by their actions.
 -their enduring and consistent involvement in fund-raising activities.
-their help in promoting Care Camps either long term or in some very dramatic fashion.
-their above and beyond aid to advance our mission.
This KOA Holiday has fostered passion for Care Camps for many years by engaging campers with fun and varied activities while always giving recognition to volunteers for their fundraising efforts.  The manager is small in stature but a giant force and is always determined to increase their Care Camps contributions year after year. 
Her personal goal was to top Okeechobee and this year she blew it out of the park, raising more than $45,000 for the kids.
 The manager, staff, volunteers and campers help many raffles by asking community businesses for door prizes where they made gift baskets to raffle at dances or campground events, hand made quilts, Bingo proceeds, collection boxes and more.  A donated golf cart was restored and raffled generating $10,000 and the contents of a storage unit was donated for a campground yard sale with all proceeds going to Care Camps.  Many staff and campers have been touched by cancer and they open their hearts and wallets to the cause. Creative thing made it happen.
A huge thank you to Lori Hight and everyone at the St. Petersburg KOA who are this year's WE CARE AWARD winners.