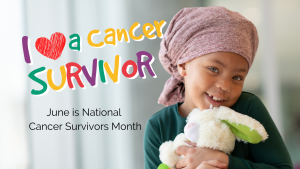 Whether you're a cancer survivor, a family member, friend, or medical professional, you can be there for those that have recently heard the words, "you have cancer." You can offer support to those affected when a loved one is facing cancer, and most importantly- celebrate life with the cancer survivors that inspire you!
June is recognized as Cancer Survivor Month and the first Sunday of the month is National Cancer Survivors Day – an annual event held in hundreds of communities as a celebration for those who have survived, an inspiration for those recently diagnosed, a gathering of support for families and an outreach to the community. 
Cancer survivors and their families and caregivers are an inspiration to us every day. The courage and strength they demonstrate is unmatched. This is a great time for people around the world to unite to show cancer survivors just how much we appreciate them. 
Here are a few ways you can support Cancer Survivor Month:
CELEBRATE – National Cancer Survivors Month provides an opportunity for all people living with a history of cancer – including America's more than 16.9 million cancer survivors – to connect, celebrate milestones, and recognize those who have supported them along the way. Celebrate how you know best! Take the trip, throw the party, check something off the bucket list, spend time with loved ones or join a community survivorship event.
SPREAD THE LOVE – Update your Facebook Profile picture with our "I love a Cancer Survivor" Frame and encourage your friends to do the same. Cancer Survivor Month is a chance for us all to draw attention to the ongoing challenges of cancer survivorship to help promote resources, research, and legislation to improve cancer survivors' quality of life.
HELP OTHERS – A beautiful way of celebrating that special cancer survivor in your life is to help a child facing cancer experience healing outside the hospital. At Care Camps, we know that children with cancer face hardships few of us can even imagine. We are committed to giving every child who dreams of attending a medically supervised cancer camp the chance to do just that and your support helps. Donate to Care Camps today>>
SHOW YOU CARE – Whether someone is still facing treatment or has won their battle against cancer, it's important to let them know how much they mean to you. Send an encouraging note, make a phone call, check in and offer support. By celebrating National Cancer Survivors Day and Month with them, you are acknowledging the difficulties they've overcome and reminding them how much you care.
JOIN THE CONVERSATION – For those who have not been affected by cancer, take the opportunity to learn and understand the challenges that accompany survivorship. Talk to survivors and caregivers. Resources such as these offered by the Mayo Clinic and the National Cancer Survivors Day Foundation are free and available to the public.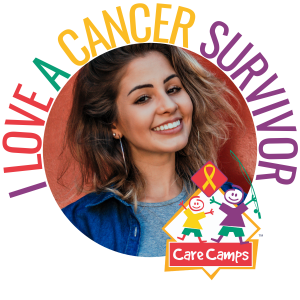 At Care Camps, we believe healing doesn't just happen in hospitals. We help kids with cancer find hope and healing in the great outdoors through special oncology camps. At camp, kids get the medical care they need, along with specialized counseling, and they do it all surrounded by friends who know exactly what they are going through. At camp, kids can forget about the chemo, the radiation, and all the hard stuff that comes with cancer…and just be a kid again.
Join us and help a child with cancer experience the healing power of the outdoors. Carecamps.org