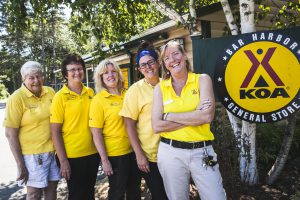 Care Camps began as a dream on the part of a handful of campground owners to help kids with cancer find hope and healing in the outdoors.  Over the last three decades, Care Camps support has blossomed into hundreds of campgrounds passionately working to raise money for the charity they created. 
One campground that has been working to find new ways to raise additional funds for Care Camps is the Bar Harbor KOA, along Maine's beautiful southern coast.   In concert with KOA's efforts to promote recycling, Bar Harbor started a program that benefits both the environment and Care Camps kids.
Maine is a state that requires a deposit on all beverage containers. Once emptied, these plastic, glass and cans can be returned for a $.05 refund per container at a designated recycling center. Employees at the Bar Harbor KOA decided to take advantage of the state-wide recycling program by encouraging guests who weren't going to cash in on their beverage containers to leave them in designated bins so employees could sort the beverage containers and take them for the $.05 refund to be used as a donation toward Care Camps. 
"We distribute green colored bags to our guests as well as have banners over collection points throughout the campground," says KOA Bar Harbor General Manager Barb Fallon. "But the employees volunteered their own time to sort and bag for redemption."
This year, the campground has decided to try to make recycling even more fun for campers by adding a basketball-like goal with a net that campers can try to shoot their empty plastic bottles through. Hopefully, if campers think recycling is fun, they will be more inclined to participate in the recycling and fundraising efforts. The campground also plans to create some fact sheets to put out that will educate campers on the benefits of recycling and will display a fundraising thermometer to show KOA customers how much their recycling efforts help the kids who get to attend Care Camps.
"Last year we raised $2,500 for Care Camps through this simple recycling program. Our goal this year is $3.000, $.05 at a time," says Ms. Fallon. What a great way for employees to take action and positively impact the environment and sick children at the same time!
Care Camps Executive Director Karen McAndrew said, "We are so proud of the Bar Harbor KOA for their creative efforts to raise funds for Care Camps.  This is just one example a simple fundraiser your campground can do for Care Camps.  We hope every campground will join us and do at least one fundraiser to help the kids find hope, happiness, and the healing power of the outdoors."
Fundraising made Easy! 
If your campground would like to do an easy Care Camps fundraiser, check out the new "FUN-Raising Starter Kit" on the Care Camps website.  You can choose from a huge variety of fun and easy guest activities that can fill your events calendar and provide great fundraisers for Care Camps!  Go to https://carecamps.org/campground/ to download your fundraising toolkit today.   If your campground has a successful fundraiser you would like to share, please email us!  We would love to hear your story.  Send us a message to:  jmercer@carecamps.org
This feature story was written by Stephanie Allen and generously sponsored by: AGS

Featured in Campground and RV Park E-news.