Some trails are happy ones, Others are blue.
It's the way you ride the trail that counts, here's a happy one for you.
Mr. Ron Garman discovered his love of camping and the great outdoors as a boy. His first real camping trip was to the Muskingum River. Located in central Ohio, this primitive camping experience is just what 12-year-old Ronnie needed. He had been fighting acute childhood leukemia since his 8th birthday, leaving him comatose and near death at one point.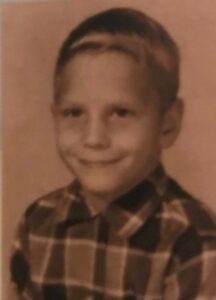 "Being well enough to have this normal childhood experience was something I remember thinking would never happen. Back in 1965 when I was diagnosed with cancer, people generally lived six weeks," said Ron. "I really learned to appreciate life that trip and from that time on, I was camping or in nature every chance I got."
With a heightened sense of the fragility of life due to his childhood cancer experiences, Ron and his wife, Carol decided not to wait until retirement to travel and make memories with their family. They bought their first motorhome- a Class A when their children were young and 35 years later, the adventure continues.
"Care Camps wasn't in existence yet when I was a child but I can say without hesitation how important this resource is to patients and their families. Camping as a child led to a lifetime appreciation of nature for my family. The opportunity to have the camp experience and soak in all nature as to offer is life-changing," said Ron.
Ron added, "When I saw that Care Camps was created by a group of KOA campground owners and that they continue to support them along with the RV and outdoor industry, I felt really moved. Camping is just what these kids need, trust me, I know!" 
Ron has some lasting complications from his childhood cancer but doesn't let that hold him back. He and his family have visited 49 states (Oregon will happen eventually!) in their motor home. A four-week trip out West remains one of his favorites, having convinced his brother to join them.
"I remember my aunt telling wonderful stories of her travels all over the world, but the one about her stay in an old Hollywood actor's working ranch in the late 1930s inspired my interest in the Great West," recalled Ron.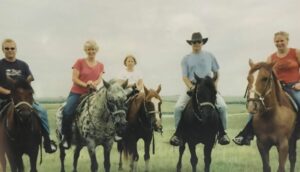 Now retired from teaching 4th and 6th grade, his former students still remember that his classroom was like stepping into a western. He was also known for his innovative approach to teaching and appreciation for life.
"Cancer affects the whole family, and I am deeply indebted to my wife for standing by me in all the difficult times. I cherish dearly the time I can spend with my family- my children and now grandchildren. Camping has been a huge part of that and I am extremely grateful for those opportunities."
A Roy Rogers enthusiast with Happy Trails as a personal theme song, Ron embodies the cowboy spirit. He is often seen around town in his western boots and hat as he volunteers for a local cancer charity and at a horse therapy farm.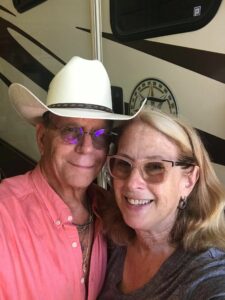 "If cancer taught me anything, it is to not wait until the time is right to do things you enjoy. Happy Trails to you all!" said Ron.
Some trails are happy ones,
 Others are blue.
It's the way you ride the trail that counts,
 Here's a happy one for you.
Happy trails to you,
 Until we meet again.
 Happy trails to you,
 Keep smiling until then.
Who cares about the clouds when we're together?
 Just sing a song, and bring the sunny weather.
Happy trails to you,
 Until we meet again.
-Roy Rodgers & Dale Evans, 1952