"Dress-up play allows anyone to dream, hope, and use their imagination."
Dressing up is fun, fosters creativity, and explores the imagination. The benefits of donning a costume with family and friends are far-reaching for everyone.  However, for kids with cancer, rocking kitty ears, a poodle skirt, or a superhero costume can be just what the doctor ordered.
Dressing up or having a theme or costume party plays an important role in healing. Here a just a few reasons why:
Boosts Moods
Costume parties are filled with excitement and can provide an escape from everyday stresses. When children play dress-up, they root their imaginative stories in reality, where they can decide what they like and what they don't.  It gives kids permission to pretend to be someone or something different and extraordinary while reflecting their personality and current interests.
Strengthens Relationships
Playing with costumes is a strong lesson in empathy. By "living" the life of someone else, you put yourself in that person's shoes. How do they feel? What are their motivations? How would they behave in certain situations? This strengthens the ability to understand other people's feelings.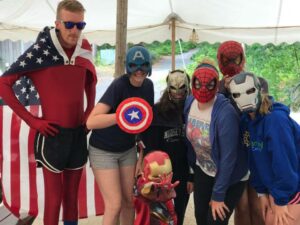 Social Engagement
People use their creativity when they pick or design a costume. It creates a foundation to interact without any judgment at all. Costumes also are great ice breakers. If you are nervous about meeting people and interacting with them, a costume is an instant conversation starter!
There are so many benefits to dress-up play that role-playing in a costume is great throughout the year. Don't limit the fun and learning to only a few weeks in October- sponsor a dress-up theme party at a Care Camp today!