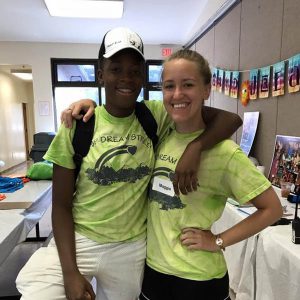 How one camper became a counselor and a leader in creating hope.
Maggie Rogers was just four and a half years old when she was diagnosed with Stage III Wilm's Tumor. "I showed up to camp completely bald and with my older sister in tow. I absolutely loved camp – it was a single week of the year where my sister and I could be normal kids again.. We did camp activities from dance to arts and crafts to sports to a Camp Dream Street favorite, tie dye. Because I was in active treatment for my first three summers at camp, I was not able to attend other summer camps. Camp Dream Street was a highly coveted week of every summer."(Pictured, Maggie, center behind sign with her group at Camp Dream Street, 1994.)
Maggie's experience at camp with her sister as a child inspired them both to become counselors to give the same care, love and hope to other children, knowing first hand how impactful camp can be.
"I became a counselor because I had the most incredible experience as a camper. I wanted to provide the same type of experiences to other campers and their siblings. My first two summers working at camp, I actually wasn't old enough to be a counselor and worked in the kitchen making everyone's lunch and snacks. Eventually I became a counselor, my sister also had an incredible experience as a camper and subsequently became a counselor for a few years during high school and college. Camp Dream Street was this magical week every summer where I wasn't "the kid with cancer" and my sister wasn't "the sister of the kid with cancer." During treatment, camp was an opportunity to be a kid again and after treatment, it was an opportunity to contribute to a program that improved my quality of life so much." (Pictured, Maggie as a counselor with Trianne who was once we camper and also became a counselor!)
After a decade as a counselor, Maggie joined Camp Dream Street as staff and now serves as the Lower Division Head. Her life and career have centered around helping others. "I don't remember much about life before cancer (or before Camp Dream Street) but I think it's quite obvious that my patient experience has significantly impacted my career trajectory. Professionally, I'm the Director of Research at the Center to Advance Palliative Care in New York City and have a Masters of Public Health in Epidemiology. The work that I do now is entirely focused on improving the quality of life for people living with serious illness."  
"To me a hero is someone who displays passion, kindness, selflessness, and an overwhelming ability to bring light to dark situations. I have too many heroes to name! Lisa Robins, the Camp Director, and Pearl Seidan, Camp Dream Street's Founder, are definitely at the top of my list. They are the reason that Camp Dream Street provides the best week ever for sick kids and their siblings. And they are the reasons I come back to camp again and again. They make a hectic week look effortless." (Pictured, Maggie with Lisa and Pearl as Lower Division Head at Camp Dream Street.)
Do you know a Hero of Hope?
Not all heroes wear capes, some look just like you and me. They are your neighbors, friends, coworkers, and family. They are volunteers, doctors and nurses, camp counselors. They are donors, fundraisers, corporate partners, and staff members. They are parents, siblings, and loved ones. They are cancer survivors and those still fighting. They are heroes. And we want to celebrate them! Do you know a hero of hope? Nominate them here.