Emmalin was two years old when she first started experiencing symptoms caused by a Juvenile Pilocytic Astrocytoma(JPA), a tumor the size of a tennis ball growing on her brain, including headaches, not being able to sleep or eat, and extreme clumsiness. Complicating matters, it was discovered during surgery that the tumor was wrapped around her optic nerve and could affect her vision.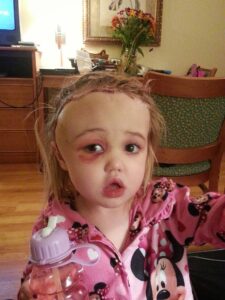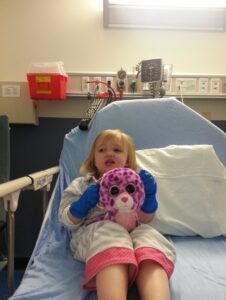 Emmalin and her family spend a lot of time in the car over the next 77 weeks of intense treatment; traveling two and a half hours once a week to Baton Rouge, LA for appointments and chemotherapy and about 8 hours to Memphis, TN for testing every three months.
Emmalin's tumor was defined as stable for 14 months before it started to grow at a significant pace. The next round of chemotherapy was ineffective and the tumor was taking her vision. Emmalin, now five, endured 30 proton radiation treatments. This was a tough time for her, with travel and treatments, she also missed 4 months of kindergarten.
"It was hard but I also got to go to camp for the first time that summer. When they (Care Camps) say that they give kids the chance to just be kids, it is really true!" said Emmalin.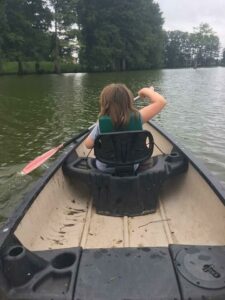 She appreciates knowing that someone is looking out for her but letting her have the freedom to explore and do activities without too much supervision. Being with the other kids and hearing the stories is one of her favorite parts of camp.
"At camp, we are like Legos®, all very different, but through camp, we connect and fit together, "said Emmalin.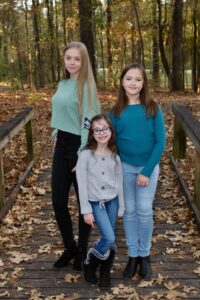 Emmalin's sisters, Layla,18, and Allie,8 attend camp with her each summer.
"When the girls are away at camp, it is also a nice breather for us. We know they are having fun and in great hands. It is a great time for them to bond outside of the hospital setting," said Emmalin's parents, Adam and Sarah.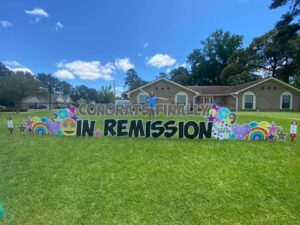 June 14, 2021, the family received the best news- Emmalin was in full remission!
"We weren't sure if we would ever hear those words. We can breathe deeper for sure," said Sarah, Emmalin's mother.
Emmalin has to juggle the sides effects of her tumor and treatments but doesn't let it stop her. She loves to read, write essays, golf, build cities with Legos®, and play the flute.