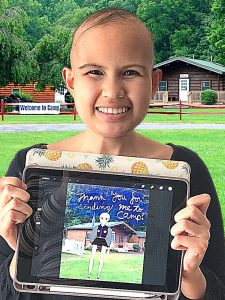 Happiness is Camping is way more than just the name of the oncology camp that 14-year-old Angelina attends in Hardwick, New Jersey each summer. "Happiness is Camping" aptly describes how Angelina and her brother, Mario, 16, who attends as part of the sibling's program each summer, truly feel about camp.
Camp is such a highlight of their summer that they start reminding (borderline pestering!) their mother to register them as soon as the snow starts to melt. However, Angelina wasn't so excited about it her first time.
"I was super scared my first summer at camp. I didn't want my mom to leave. I thought for sure this wasn't for me," Angelina remembers.
Fast forward to one week later and she couldn't stop talking about the fun she had, the friends she made, and the new experiences. That was about five years ago; today her concern is aging out of camp. But she has a plan.
"Mario has been invited to participate in the "Counselor in Training" program. When I age out, my goal is to be invited back as a camp counselor too- maybe even for the Doves (the girls' cabin she is currently in).  I want to share my experiences to help other kids facing things similar to me," she explains.
Angelina's smile lights up the room and she radiates joy despite all that she has been through. She was diagnosed with a non-germinomatous germ cell brain tumor at the age of four and has since endured two brain surgeries, nine rounds of chemotherapy and radiation. She also had to travel to Jacksonville, FL for proton therapy.
Always looking on the bright side, Angelina says with her trademark smile, "Well, at least there was free ice cream."
Her mother, Luz feels that Happiness is Camping has helped her children in so many ways. Angelina has earned a reputation among her classmates at school as a compassionate, empathetic listener who they can count on.  Luz, in part, credits Angelina's uplifting perspective to the staff and counselors at camp in something she describes as "the heart" of Happiness is Camping.
Camp has also contributed to their sense of independence and responsibility. At camp, they have to keep their cabins clean and have various other age-appropriate chores and this has translated to when they are at home as well.
"I am so grateful to Care Camps for helping to make this experience possible for my children. Seeing them making lasting carefree, childhood memories in an environment where everybody appreciates each other brings me immense joy. They (Angelina and Mario) are the ones at camp- but the happiness from the experience trickles down to the whole family," said Luz.
Angelina is very creative; she likes to write stories, is a self-taught artist, and is exploring the idea of becoming a fashion designer. In the meantime, she has camp to look forward to this summer and with her cancer in remission, hopefully, a trip to Brazil to celebrate in the near future!
Care Camps helps support 135 special oncology camps across the US and Canada, providing exciting summer adventures for thousands of kids with cancer each year. Whether they are in active treatment or on the mend, the one thing that connects them all is the childhood memories they are making as they enjoy nature and benefit from the healing power of the outdoors through camp. We are honored to be able to introduce to you a few of these camp-loving kids each month who have become our heroes. Care Camps provides HOPE, but our kids provide the INSPIRATION.
This "Hero of Hope" story was written by Alex Vukoder and is generously sponsored by our partners at Dometic.