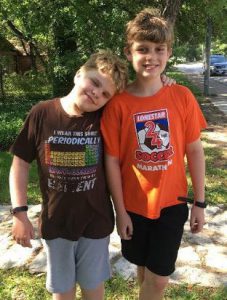 Care Camps helps support exciting camp adventures for thousands of kids with cancer each year. Whether they are in active treatment or on the mend, the one thing that connects them all is the childhood memories they are making as they enjoy nature and benefit from the healing power of camping. We are honored to be able to introduce you to a few of these camp-loving kids each month. Care Camps provides HOPE, they provide the INSPIRATION.  
Meet Miles, a 9-year-old, fourth-grader from Austin, TX.  Miles loves science (check out his very cool and punny t-shirt) and is thinking he wants to be an electrical engineer when he grows up, but for now, summer camp is top of mind. 
"Camp is Awesome!"  he enthusiastically responds when asked about Camp Discovery, a pediatric oncology camp in San Antonio, TX that he has attended three times, twice in person, and then virtually last summer.  At Camp Discovery, Miles joins other campers for an overnight, week-long traditional camp experience.  He recently learned that the plan is to be in person this summer and he can hardly contain his excitement.
Miles was diagnosed with Neurofibromatosis (NF), a genetic condition that causes tumors to grow along his nerves when he was just one and a half years old. He broke his arm and the x-ray showed that it was a tumor growing in the bone that caused the break.  In an advanced procedure, doctors were able to graft a piece of his leg bone in place of the damaged section of his arm bone and both bones regrew.  With NF, the tumors can grow anywhere in the body and often have to be treated with chemotherapy and surgery. Miles has endured treatment to help shrink a tumor on his optic nerve, which is now stable but resulted in some vision loss.  In 2020, an MRI showed a new tumor had developed, this time on his cerebellum.   After chemotherapy failed to shrink it, Miles had brain surgery in January of 2021. Although the surgeons were unable to get it all due to the location, Miles is really happy to be recovering at home and back to playing basketball every week.
The prospect of being on the campgrounds this summer and reconnecting with his friends in just a few short months has him thrilled. He is especially looking forward to archery.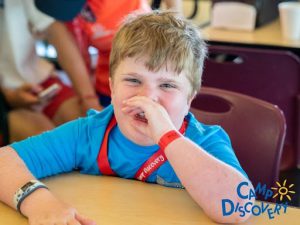 Miles explains, "I love the challenge of it. Just knowing that when you pull back and let go, it could be a bullseye is a great feeling". 
Camp is full of fun activities for Miles and his fellow campers. In addition to archery, canoeing, basketball, and horseback riding are among his favorites. Fishing isn't on that list- but he shared that he would consider adding it to the favorites list if he actually caught something once in a while. Getting to spend the week away home with friends who understand firsthand some of the challenges he has faced is something he calls the "BEST".
"Oh, and the fried eggs," Miles added, "The food is really good."
This "Hero of Hope" story was written by Alexandra Vukoder and generously sponsored by our partners at Dometic.