Seth was recovering from complicated surgery when his mother, Sarah, dropped him off at camp for the first time almost five years ago.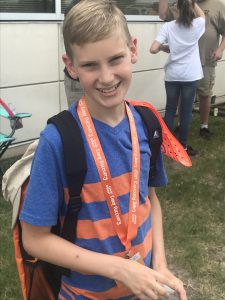 "Seth was still using a wheelchair and receiving wound care. I thought to myself, how is this going to work? Is he going to get the care he needs? How will he still have fun?" remembers Sarah.
The staff at Camp Discovery, a specialized pediatric oncology camp, staffed by volunteers including nurses and doctors reassured her.
They said, "Don't worry. We'll make it work." And they did.
He did everything that he could that summer. They sent me pictures of him ziplining and riding horses even," said Sarah.
Seth is now 14 and can't wait for camp to be in person this summer. He is really excited that it will be hosted at Morgan's Wonderland campgrounds, near their ultra-accessible theme park.
"At camp, no one sees us as different. We are all cancer patients, so it isn't awkward, it's normal," Seth explains.
He enjoys all aspects of camp, but especially the ropes course, swimming and spending time with his friends.
Sarah's worries of that first summer have dissipated.
"I have complete trust in the team at camp. Most of the medical professionals and counselors are volunteers and they make it truly amazing for the kids. It's on their hearts to be there, seeing the kids enjoy life. It might only be one week out of the year but they have become family," shared Sarah.
Seth was only ten when osteosarcoma was discovered in his left tibia and lung. Doctors removed the tumor and part of his growth plate by building him a replacement tibia. A few years later, cancer returned in his lung and was now also present in his heart. His tricuspid heart valve was replaced with CorMatrix, a valve made of pig intestine. In 2020, another tumor developed in his lung. He completed targeted radio therapy and is currently taking oral chemotherapy.
The family established the Seth Strong Foundation as a way to give back to the community that wrapped their arms around them. It started as a mother/son kickball tournament hosted by a group of mothers from Seth's school to help the family through his first diagnosis. The tournament has become an annual event to raise funds to help local families experiencing a life-threatening illness of a child. The Seth Strong Foundation also provides scholarships for graduating seniors who have had cancer personally or in their immediate family.
As a three-time cancer survivor, Seth has endured a lot in just a few years including two rounds of heavy-dose chemotherapy, radiotherapy and several complex surgeries. Throughout it all, he remains positive. He is looking forward to starting high school in the fall with the goal to someday be a veterinarian. His love of all animals, especially his rescue dog, Maggie is his inspiration. Seth loves to golf, play video games and basketball- and be chauffeured around by his 16-year-old sister, Abby!
Care Camps helps support 135 special oncology camps across the US and Canada, providing exciting summer adventures for thousands of kids with cancer each year. Whether they are in active treatment or on the mend, the one thing that connects them all is the childhood memories they are making as they enjoy nature and benefit from the healing power of the outdoors through camp. We are honored to be able to introduce to you a few of these camp-loving kids each month who have become our heroes. Care Camps provides HOPE, but our kids provide the INSPIRATION.
This "Hero of Hope" story was written by Alex Vukoder