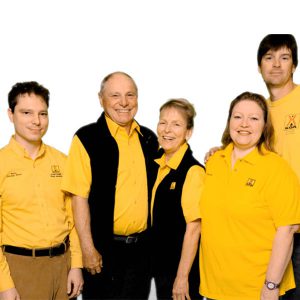 This award is named for Peter Warrick, founder of Southeast Publications, and Wayne Morris, a longtime executive at the company. The KOA Owners Association created the award in 2013 in honor of Warrick, Morris and Southeast Publications, who have been very generous supporters of KOA Care Camps.
The award is given to a KOA Campground in recognition of Achievement and Growth in Care Camps Participation and for outstanding effort in having the largest year over year increase in financial support ($ amount) to the Care Camps program for the entire KOA system
This year the Peter Warrick/Wayne Morris Award goes to the Kippschull Family of Fort Collins/Lakeside KOA who significantly raised their contributions from $1,303 in 2017 to $10,931 in 2018, an increase of $9,628.  
Guenter immigrated from Germany to Chicago as a young boy. He originally owned and operated the bowling alley and pool hall in Chicago which was featured in the 1986 Paul Newman/Tom Cruise blockbuster movie "The Color of Money".  After selling the bowling alley/pool hall, they signed their first KOA franchise contract for Fort Collins/Poudre Canyon, CO KOA in February 1988. 
In 1994, they added the Fort Collins N/Wellington KOA Journey to their portfolio and in 2006, they added the Fort Collins/Lakeside KOA Holiday.
The entire family is involved in the operations and are very hard working, hands-on operators, including Guenter, himself, on his hands and knees laying pavers for a patio site in the dead of the Colorado winter.
They have always been VERY generous with Care Camps and that is why they are so deserving of this award.