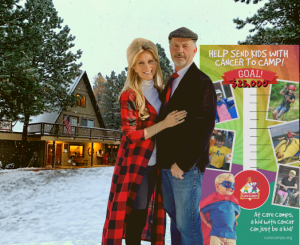 Care Camps began as a dream on the part of a handful of KOA campground owners to help kids with cancer find hope and healing in the outdoors.  Over the last three decades, Care Camps support has blossomed into hundreds of campground owners and staff passionately working to raise money for the charity they created, along with many other new partners in the camping and RV industry.
One new campground that has been working to find creative ways to raise funds for Care Camps and the kids they serve is the KOA campground in Ouray, Colorado.
Campground owners Troy and Penny Crosson were ready to start raising money for Care Camps last summer but wanted to come up with an idea that would require minimum effort while producing maximum results.
Campground owner Troy Crosson first got his idea for his campground's fundraiser when shopping for pet supplies at a local store. As he was checking out, the terminal asked him if he wanted to donate any money to the SPCA. It was a simple act on his part as a customer. He could donate $1, $5 or $10 with the click of a button as he made his purchase. He loved the simple idea and thought he could implement that at his campground.
"I have been involved with kids missions worldwide, and after seeing Care Camps and what we are trying to accomplish, my goal is to look into smart ways to help raise more funds, thus more kids will benefit," says Ms. Crosson.
This summer, Troy plans to put this idea to work. He has purchased the ShopKeep Point of Sale system for his campground, and he will add an option for customers, as they check out, to simply make a quick donation to Care Camps as they are settling their bill. He plans to have the option for campers to donate $1, $5, $10 or $20 upon checkout from his campground. He will run this program at the Ouray KOA from Memorial Day 2021 through the middle of October 2021.
He knows some campers will opt out but thinks many will opt in. As this is a pilot program, he is unsure right now how much money this will allow him to donate to Care Camps for his busy season 2021, but he has high hopes for the program. He expects more than 20,000 campers this summer and hopes to be able to donate at least $20,000 to Care Camps. He is most excited about the ease of use of his idea and thinks it would be something fairly easy for other campgrounds around the country to adopt, as well. "This simple implementation not only simplifies our guest service department but brings attention to our guests concerning Care Camps."
KOA's President and CEO Toby O'Rourke said, "We are proud of all our campgrounds who choose to find creative ways to support the Care Camps charity.  A similar feature allowing a camper to add a donation at time of check-in is planned to be added to K2 this year, and campers can currently donate at the time of reservation on KOA.com.  We celebrate Troy and Penny and all the campground owners who are so dedicated to helping kids with cancer experience the healing power of the outdoors through Care Camps."
Care Camps was founded by the KOA Owners Association 36 years ago.  Today, the entire KOA system, along with many new partners across the camping and RV industry, have joined together to serve children with cancer and their families in every single community across the US and Canada.   Care Camps provide hope, happiness, and the healing power of the outdoors to children with cancer.
If your campground is not yet doing a Care Camps fundraiser but would like to, check out the new "FUN-Raising Starter Kit" on the Care Camps website.  It has everything you need to implement a variety of the easiest and most fun guest activities and fundraisers for Care Camps!  Go to https://carecamps.org/campground/ to download your fundraising toolkit today!
If your campground has a successful fundraiser you would like to share, please email Care Camps at jmercer@carecamps.org
This feature story was written by Stephanie Allen and generously sponsored by: