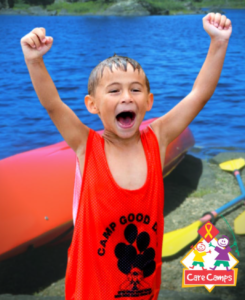 Patrick Industries, one of the RV and marine industries' largest suppliers, has joined the effort to help more children with cancer experience the healing power of the outdoors through a new cause-marketing partnership with Care Camps. The Elkhart, Ind.-based company kicked off its partnership with what was said to be a "substantial first-time gift" this week, according to a Care Camps release, and is making plans for additional ways to partner with the charity. 
Well known in the leisure lifestyle space, Patrick Industries is a major manufacturer and distributor of component and building products for the RV, marine, manufactured housing and other related markets. 
Patrick has experienced significant growth over the last several years and is now managing over 190 manufacturing and distribution facilities located across the United States, Canada, Europe and Asia. As part of that growth, the group is enhancing its corporate social responsibility platform with a new partnership with the charity best known for helping kids impacted by cancer to find hope, happiness and the transformational healing power of the outdoors. 
Patrick's Executive Vice President of Sales Jeff Rodino stated that, "Our Patrick family is extremely excited and very humbled to partner with Care Camps in their mission to provide children battling cancer with unique outdoor camping experiences that will create special life-long memories. Care Camps' vision and drive is an excellent match with Patrick's core values and we are honored to have formed a partnership between this organization and all of our Patrick teams throughout the country to support such a great cause." 
Care Camps provides opportunities for kids with cancer to experience the outdoors through 135 special oncology camps that serve every community throughout the US and Canada. At Care Camps, kids learn to appreciate nature, along with growing life-long friendships with other kids who understand exactly what they are going through. Through Care Camps, many kids have gotten to experience the outdoors for the first time and have grown up to be the next generation of camping enthusiasts! 
As the number of children impacted by cancer grows each year, along with the cost of medical treatment, so does the need for additional funding to help the kids, stated Care Camps Director of Development Jennifer Mercer. 
"The Patrick team and their leadership have shown an incredible heart for giving back to make a difference in the lives of these kids," Mercer said. "Their initial donation along with planned future employee engagement and cause marketing initiatives will bring the outdoors experience to thousands of kids who otherwise would not have had this chance. We hope the employees and customers of Patrick are proud to work with a company that has chosen to give back and support so many kids with the opportunity to find hope, happiness, and healing in the outdoors." 
This article first ran in RV Business.