Twice the Healing, Twice the Hope!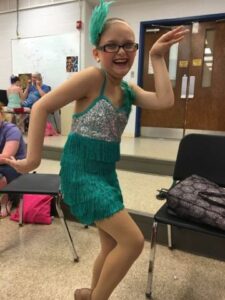 When it matters most, there's a love shared between sisters that is unbreakable. For 16-year-old Riley and 14-year-old Raegan, this bond of sisterhood includes the cancer journey they are taking together.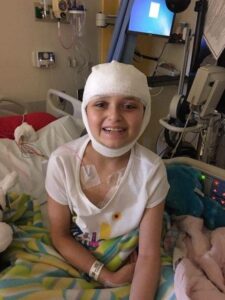 When Riley was just nine, she was diagnosed with pilocytic astrocytoma, a rare brain tumor that required a steady course of oral chemotherapy. As a fourth-grader, who loved to dance competitively and was looking forward to a part in the Nutcracker ballet, this news was hard.  Her mother made daily trips to her classroom to administer her medicines so she could stay in school and her little sister, Raegan made all the difference by always cheering her up.
"When I was sick, people would bring me gifts. Raegan wasn't jealous of the attention, she just wanted me to get better.  Of course, I would share with her though!" remembers Riley.
Sisters and self-proclaimed BFFs, Riley and Raegan spend as much time together as they can. They share a room and are bowling teammates. The one time a year they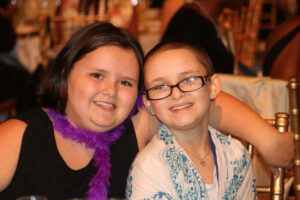 look forward to being a part is for camp. Riley attends John Hopkins Camp Sunrise with other kids affected by cancer and Raegan heads to SunSibs, a weekend camp for kids who have had a sibling diagnosed with cancer.
"When you have cancer, you are the one with the spotlight. It can be hard for siblings. This camp is just for her. Knowing that she doesn't have to worry about me and she gets that weekend is truly amazing! It makes me so happy," said Riley.
"My friends at camp, we just get each other. No explanation is needed. It is nice to spend time with other kids who know what it is like to have a brother or sister that has gone through this," said Raegan.
Their mother, Dawn, added, "It was so hard to relinquish them to camp the first time. Riley was still in treatment and Raegan was so young. We are so grateful to Camp Sunrise and to Care Camps for making it possible for them to both get their time away."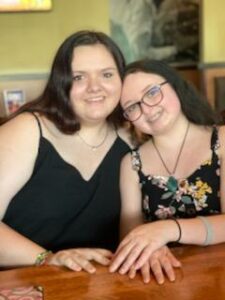 Riley is in remission and stable but does experience side effects including severe headaches and migraines, not to mention lots of doctor's appointments. Raegan has been there through it all.
"Raegan is the best sister. She doesn't hesitate to help me with the chores, especially when she knows I am not feeling well", said Riley.
Chores are a serious deal at their house. The sisters have five cats, two bunnies, and a dog that require a lot of care and attention.
As high schoolers, they are looking to the future with excitement. Riley loves History and English and plans to be a news reporter and Raegan is leaning towards a career as a labor and delivery nurse. One thing's for sure, these sisters will always support each other!