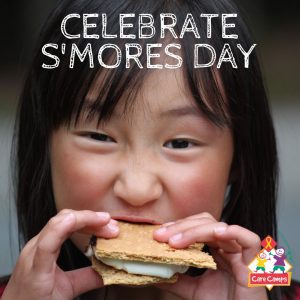 Camping and s'mores are synonymous with each other. This gooey, crunchy treat made of chocolate, marshmallows, and graham crackers has deep roots in the camping community. As history tells it, the recipe for "Graham Cracker Sandwich" appeared in the early 1920s as a treat for kids camping and by 1938 the sandwich was widely known as s'mores by summer campers in reference to the "some more please" reaction this delicious treat elicits.  S'mores have become so popular that just one of the famous chocolate companies produces enough chocolate bars to make 746 million s'mores each year and there are so many ways to mix up the traditional recipe.
S'mores has even earned its own official day! Of course, the most obvious way of celebrating S'mores Day is by eating s'mores, but this S'mores Day, you can also help a child with cancer! For the kids with cancer that attend Care Camps, making s'mores is more than just a wildly popular campfire dessert. An evening around the campfire making, assembling, and eating s'mores with friends is a fun part of the camp experience- an experience that plays an important role in their health and healing.
Your gift of $50 can help provide a fun evening of s'mores to 20 campers! When you help fund a water balloon fight, an evening around the campfire with s'mores, or a pizza party, know that the FUN you are making possible is making a real difference for families facing cancer.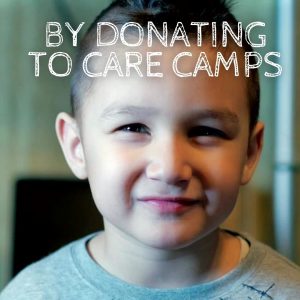 Camp eventually ends for the season and the experience gradually fades into special memories, but the benefits of having fun can last a lifetime.
When YOU help make the fun happen, you are providing a child and their family the chance to get away and experience the hope, happiness, and healing power of the outdoors at a Care Camp.
There are so many fun ways to make your s'mores but how ever you make 'em, make 'em count!