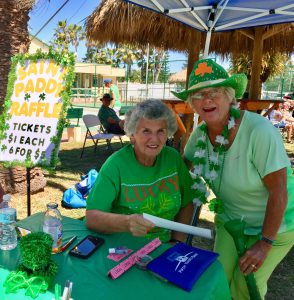 Those campgrounds that host snowbirds every year know that many look for ways to give back and build community at their winter home.  Every May, the St. Petersburg Florida KOA hosts a huge Care Camps Weekend to raise funds for Care Camps. They credit the success of their event to including the entire community in the fun, and it has become a weekend everyone looks forward to each year!  Their campers, campground employees, and community members collect donations that are then raffled off during this fun weekend-long celebration. Campground Manager Lori Hight always includes gift certificates for free camping in the raffle, and the campground collects donations from all sorts of activities that weekend, including games like miniature golf all the way to dump fees to benefit the kids. This festive weekend has become a St. Petersburg KOA tradition! 
Raising money for Care Camps in central Florida doesn't stop when the weekend draws to a close. Campers and staff at the St. Petersburg KOA raise money for Care Camps year-round.  Lori has about 200 regular "snowbirds" that return to her Florida campground every year from November to April to escape cold weather. These campers love to help fundraise for Care Camps and the kids who attend Care Camps. "Having snowbirds means that unfortunately, every guest knows someone who has battled or is battling cancer, and that is painful. So when they see the pictures of the kids at Care Camps, they melt," says Lori. "This gives our campers a way to give back and make a difference for the kids."
Some of these snowbirds are quilters, and each year, these quilters decide on a theme for a quilt. When they return to their homes for the warmer summer months, they each work on their squares for the quilt. They then come back together at the St. Petersburg KOA in November and combine their squares to make a gorgeous quilt they then raffle off for Care Camps. Last year's quilt raised $2,800!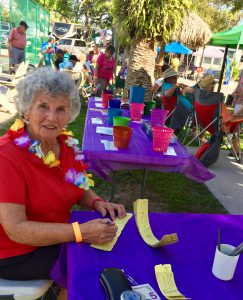 Looking to fundraise at your campground but not sure where to start? Lori's advice is to "try different things" to see what works for your campers. She often sells extra items she has at the campgrounds and donates the proceeds to Care Camps. After a celebration last summer, she had a bunch of leftover bottled water and potato chips. She had one of her own kids sit out one weekend and sell a bottle of water and a bag of chips for $1. Easy and profitable!
One year, her campers raised $500 easily by conspiring against her! Lori doesn't like germs, and her campers know this. So, they decided to make money using this idea as fuel. "I got thrown in the pool, and they raised money for Care Camps!" Campers surprised her and gave her time to take her cell phone out of her pocket, but that was it. They got to see her tossed in the pool and paid good money for it! If you have a germophobe at your campground, this is an easy (and fun) way to make people smile and raise money for Care Camps at the same time. Just okay it with that person first…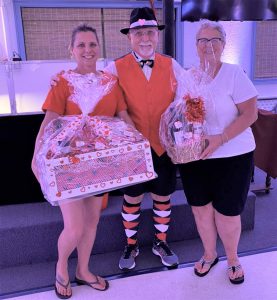 Lori encourages other campground managers to work with their local community to maximize fundraising efforts. Small businesses get to be seen by new customers in exchange for a donation that will raise funds for Care Camps. Everybody wins!
About Care Camps:
Care Camps was founded by campground owners to help children battling cancer the opportunity to experience the fun, friendships, and healing power of the outdoors.  Care Camps supports 140 special oncology camps across the US and Canada, serving kids in every single community. Today, thanks to campgrounds and the outdoors industry, Care Camps is able to bring the hope, happiness, and healing power of camp to the kids.  Many more partners are needed to fill the gap in funding!  If your campground or business would like to learn more or get involved, you can email Jennifer Mercer at jmercer@carecamps.org for more information.  You can also click HERE for your free Campground Fundraising Toolkit!
This feature story was written by Stephanie Jarrett and sponsored by our friends at  AGS.