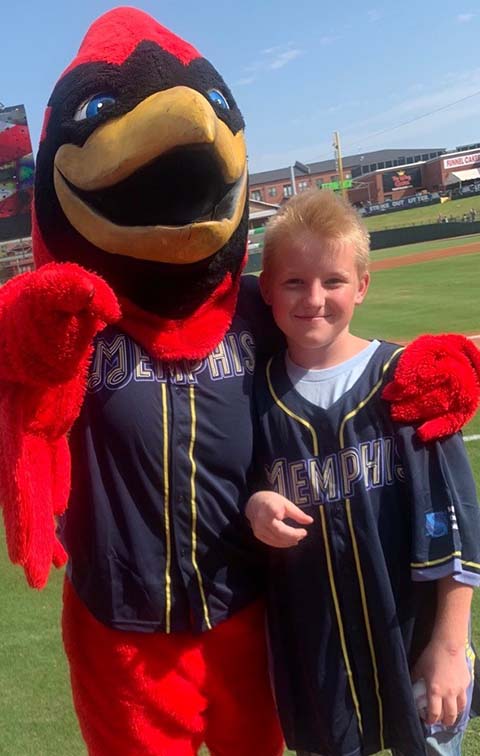 In the fall of 2020, Lane began his journey with Brain Cancer. After having numerous debilitating headaches, the family decided to see a specialist. The doctors wanted to admit Lane to Le Bonheur Children's Hospital for a week to do thorough testing. They were told to standby for a call from the admissions coordinator. On the evening of the next day, Lane started fumbling through the house. His mother asked him what was wrong, and he replied, "I can't see." They called the neurosurgery clinic and the doctor said, "Get him to Memphis NOW. We're admitting him to Le Bonheur."
After a week of immense testing, the doctor confirmed there was indeed an unidentifiable spot on Lane's brain, but they wouldn't know what it was unless he went in to get it, so they proceeded with surgery. In February 2021, Lane underwent a 5 1/2 hour operation to remove the "spot". After the completion of the operation, the family was told it was indeed a tumor growing on Lane's brain. The doctors said, "We did a freeze biopsy of the tumor in the OR that showed abnormalities, so it's being sent straight to St. Jude for pathology." After a two-week post op visit, they were informed that Lane had a grade two Astrocytoma/glioma tumor of the brain and they were referred to St. Jude.
"In the spring of 2022, a family friend told us about Camp Rising Sun. It took a little bit to convince Lane to go as had never been away from us for more than a couple of nights other than to stay with family, but he finally agreed," said the mother.
"Camp Rising Sun MS is literally one of the best things that ever happened to our son. They immediately made him feel at home upon arrival. The change that came over him was remarkable and before I drove away, he had already begun to come out of his shell. Seeing updates and pictures throughout the week, we could tell he was having the time of his life. We also found comfort in knowing a knowledgeable medical staff was on site as well."
"When we came to pick him up at the end of the week, he was sad to leave. The friendships he gained and fun he had throughout the week I don't think could ever be matched. The impact this camp makes in the lives of children battling illness is a blessing. Lane is already asking when he can start packing his bags to go back this year and is looking forward to one day serving as a volunteer."
Lane is now 14. He and his family are strong advocates for Le Bonheur Children's Hospital. In April 2023 they will be hosting a truck show, EIGHTEEN WHEELS & ONE BIG HEART, to raise funding and awareness for Le Bonheurs.