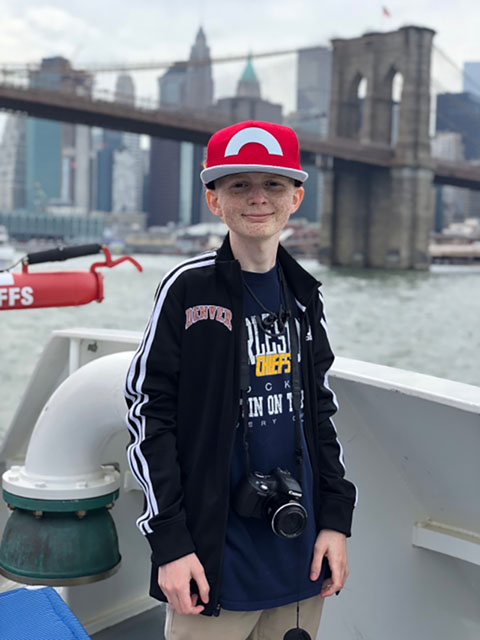 Ben was only three years old when he was diagnosed with Neuroblastoma. When one therapy didn't work, there was another to try and along the way he took part in new trials. Each time he received good news, it was only a matter of time before bad news would surface again. Thankfully Camp Wapiyapi was a place where Ben and his sister Maddy could escape these struggles to just be kids again. They made forever friends who helped them find joy during this incredible challenge and the courage for whatever was to come.
Ben and his family struggled with pediatric cancer for 14 years. After Ben's passing, the Wapiyapi community continues to play a significant role in his parents' and sisters' healing. They are comforted by friends made at camp and by memories of how much Ben loved camp. No one can take away those precious summer days of childhood with kids who accepted and celebrated him, cancer and all, for the wonderful boy he was.
Mom Sarah sent this 'Open Love Letter' to express her gratitude (excerpted here):
My Dear, Sweet Camp Wapiyapi,
You, a shining beacon of love that engulfs my children in a warm and glowing hug of gooey hope and acceptance; recruits loving humans who exude compassion and ridiculous amounts of cheer; encourages me to be a "smother" yet gives me the confidence that my delicate – yet tenacious – children are absolutely fine without me….
Oh, how I Love You.
That first time I entrusted you with my precious seven-year-old, I was apprehensive to leave yet wept at the concept of having this rite of passage of sending my child to camp. And as I watched from behind the wheel as my sweet boy confidently grasped the hand of his counselor, I cried. The image forever burned in my mind of my heart incarnate as they walked off toward their cabin, ready to make new, non-cancerous memories. Oh, how I Love You.
One of the things I LOVE MOST is that his sister is included. She has been able to bond with siblings just like her, who often feel forgotten PLUS have the ridiculous distinction of having to watch their sibling struggle. The fact that Wapiyapi loves her just as much as they love the children who have the cancer diagnosis – means the world to her. And to me.
Oh, how I Love You.
You're real. Thank goodness. Oh, how I Love You.