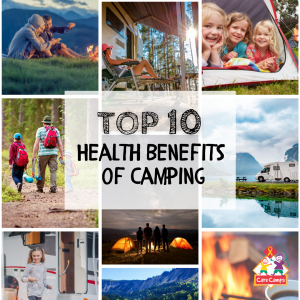 Spending time outdoors isn't just a good way to have fun this summer-it's good for you.  Studies show there are real health benefits to heading outdoors for an adventure. We compiled 10 ways you can experience the healing power of nature while camping.
Reduced Stress. Reduced Anxiety.

After just 20 minutes connected to nature, people can experience a drop in stress hormones.

Better Sleep

.  Scientists have found that when you wake up with the sun rising and go to bed when the sun goes down, your body can reset to your natural sleep cycle- providing you with your exact sleep needs. 

Improved Mental Health. Reduced Depression.

Time in nature can increase vitality, boost your mood and increase your overall well-being.

Greater Happiness & Improved Mood

. Spending time with friends and family without the daily distractions can lead to a renewed closeness and appreciation for your loved ones.

Increased Physical Activit

y. Along with setting up your campsite, hiking, biking, fishing, swimming, canoeing and more are so much fun you won't even realize you are exercising.

Time to Focus.

Too much habitual digital device time affects our ability to concentrate, remember and regulate emotion. Commit to the experience and step away from screens and reconnect without digital distractions.

Healing After Illness.

Nature-based experiences support pain management, immune function and healing after surgery including in adults and children with cancer.

Sunshine & Fresh Air.

  Fresh air helps to cleanse your lungs, allowing you to take deeper breaths. Natural sunlight can produce the daily amount of Vitamin D needed for optimal health.

Thrill of a Challenge

. New experiences that stimulate you mentally and physically help keep the brain healthy not to mention the positive feelings of accomplishment and pride when you challenge yourself and use creativity. 

Eating Healthier.

Camping eliminates the fast-food option and encourages us to eat whole foods.
At Care Camps, we believe healing doesn't just happen in hospitals. We help kids with cancer find hope and healing in the great outdoors through special oncology camps. At camp, kids get the medical care they need, along with specialized counseling, and they do it all surrounded by friends who know exactly what they are going through. At camp, kids can forget about the chemo, the radiation, and all the hard stuff that comes with cancer…and just be a kid again.
Join us and help a child with cancer experience the healing power of the outdoors.  Carecamps.org
This story was written by Alex Vukoder and is generously sponsored by our partners at Dometic.