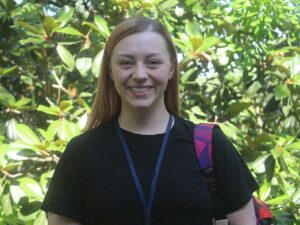 Meet Stephanie, sister of a cancer survivor…
When I was fifteen, I sat as my mom told me that my thirteen-year-old little sister, Jessica, had cancer…Ewing's Sarcoma. I was shocked and in denial that a child could have such a devastating diagnosis. My mind raced with questions "Does she need chemo? Will she be upset to lose her hair? Are kids going to make fun of her? Will I lose my little sister?" Our life was turned upside down in an instant and we were left standing not knowing what to do while we tried to pick up the pieces.
Jessica began aggressive chemotherapy therapy treatments and I watched as she battled each round. She lost her hair, she lost weight, she had multiple surgeries, but she kept fighting. Jessica kept trying to be a kid, but often times people viewed her differently. To others, she wasn't just a kid, but a kid with cancer. I could see her frustration grow as that's how people began to identify her.
People would ask me how she was doing and I would say "fine" and manage a smile while it felt like the biggest lie I had ever told. I felt hopeless seeing her try to cling with all her might to her childhood. I wanted to protect her, but I didn't know how to get people to see that even though she did have cancer, she was still just a kid. A kid that liked to play volleyball, a kid that liked to hang out with her friends, a kid that liked to go swimming in pools and go to the beach.
When my parents heard about Rapahope, they were hesitant. Hesitant to send their youngest daughter who had been through so much to a camp where they couldn't keep a watchful eye on her at all times. I remember she was excited when my parents finally agreed to let her go. But at the same time, she thought it was odd to go to a camp for kids who had cancer.
It took one week at camp for my sister to fall in love with Rapahope. She came home beaming with the biggest smile and sharing stories about all of the activities she got to do. She loved arts and crafts, but felt quite proud that she was an archery queen. She told stories about the friends she has made, how fun her counselors were, how fun horseback was, and even her camp crushes (only to me of course). For once she felt that she wasn't a kid with a diagnosis, but that she was just Jessica, a girl who loved to laugh and have fun.
Jessica was a camper for several years, and then became a counselor. It's been amazing to see her grown and be so passionate about such an amazing organization. For years she kept asking me to be a counselor at camp. And in the fall of 2022, I finally was able to volunteer for Sibling Weekend. I was nervous, but I remember that
my interview with the director was a pivotal moment for me. She told me that during Sibling Weekend, it was important to make the kids feel included and that they were the stars of the weekend.
These kids understand that their siblings are going through treatments that have made them sick and tired often. They understand that their parents will be concerned and look out after their well-being, but sometimes they would feel excluded or left out. I identified with this so much as a teen when my sister went through chemo. I was scared and felt in the dark a lot of times. I was old enough to know that my sister had cancer, but too young for my parents to feel comfortable to tell me everything the treatment entailed.
I was so excited when I got the email saying that I had been chosen as a counselor for that weekend. I was so determined to make that weekend about my sibling campers and let them have an amazing time. I appreciated how much effort, time, and detail went into Sibling Weekend. They kids had a blast and got to make so many memories with other children and with the counselors at camp. After that weekend, I was hooked. I loved Rapahope even more and knew I wanted to volunteer for Teen Weekend as well.
Teen Weekend rolled around, and I had a blast spending time with the teens. I promised one of my teen campers that I would try my best to make it to camp week, and I was determined to make it happen.
Now here I am at camp week and already planning how I'm going to fly from California next year to make it to camp week again. I never knew how much I could fall in love with Rapahope. I've finally been able to experience camp with my little sister as a counselor. I've made new friends, I've gotten epic King on the Hill battle bruises, I've learned how to juggle, and I've been so inspired by the campers. The campers have taught me how to be a kid again, and how to be brave and courageous. Rapahope has quite literally given me hope. They are a light for so many that face some of the darkest challenges, but during camp week we get to forget about all of the darkness and just immerse ourselves into the light of camp.